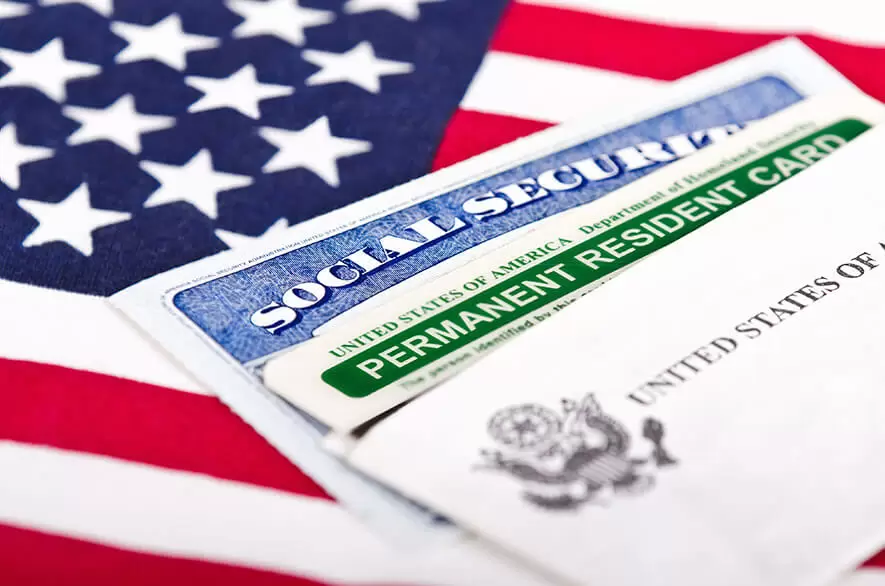 Having the ability to work and live freely in the United States is an opportunity that many immigrating to the U.S. seek. Green cards and visas legally afford these opportunities. Our firm prides itself on serving as a leading expert in the process so that we can help our clients take the next step in their journey.
A Green Card vs. a Visa
Green cards and visas are essential documents for foreign nationals who wish to stay in a country by providing them with certain rights. Visas are common around the world, while green cards are unique to the United States. The essential difference between them is that a visa allows entry into a country for a specific amount of time and for a specific purpose. A green card allows immigrants to permanently reside in the United States.
Visas work as entry points into a country. Think about a passport. When you travel to another country, you present your passport and are asked where you are traveling to, how long you will be there, and for what purpose. In some cases, you may have to present evidence of a return airline ticket. This grants you temporary time in a country. Should you wish to stay longer, you would need to visit an embassy or consulate to arrange a long-term visa. The same is true for those visiting the U.S.
In situations where a person wishes to immigrate to the U.S., they would first obtain a visa that allows them to stay in the country to become a citizen. Once this visa is issued, it grants temporary rights to the holder. A person immigrating to the United States cannot gain citizenship with just a visa. They would then obtain a green card, which allows them to have permanent residence.
Green cards provide the holder with most of the rights that are granted to U.S. citizens, with a few exceptions. However, a person must have agreen card for 3-5 years before they can apply for citizenship. A foreign national may not apply for a green card until after they are already in the United States through an authorized visa.
Green Card Sponsorship
To obtain a green card, the process usually begins with a visa that is sponsored by a company or family member. The process of sponsorship is to show the rationale for the applicant's desire or need to become a citizen.
Orange County Job Sponsorship
Job sponsorship opportunities include:
Legal permanent resident by job offer. An employer files paperwork on behalf of the foreigner. Once approved, the foreigner will receive instructions on pursuing a green card.
Legal permanent resident by self-petition. Foreigners can petition for their own green card based on "extraordinary abilities," for example.
Legal permanent resident by investment. This pertains to foreigners who wish to invest in the job market of the U.S. by creating job opportunities.
Legal permanent resident through special job categories. If a foreigner holds a special job, such as a broadcaster or religious worker, they may be able to obtain a green card.
Family sponsorship includes:
U.S.citizen immediate relative. Spouses, unmarried children under 21, and/or parents petitioning the U.S.
U.S. Citizen family member in preference category. Siblings, unmarried children over 21, married children no matter the age
Green card-holder immediate relative. Spouses and/or unmarried children under 21
The Green Card Process in Orange County, CA
To file for a green card, a foreign national must first hold an immigrant visa that authorizes them to be in the United States. Then, using an I-485 form, they may apply for a green card. However, what happens next is determined by the location of the foreigner.
If they are in the United States, then they will file the paperwork and go through an adjustment of status process. If they are overseas, then they will file through a consulate and will go through consular processing. Oftentimes, both will require an interview and fingerprints, but consular processing is quicker, up to six months on average than adjustment of status processing, often a year or more.
Once the application has been appropriately filed, there will be a fee associated with it that varies depending on who the applicant is. Fees range from $0 (in some cases of refugee status) to $1140.
Once a green card is issued, it is valid for a period of 10 years. However, many who hold green cards become naturalized citizens before that time.
FAQs About Orange County, CA Green Card and Visa Laws
Do I Need a Lawyer to File for a Green Card in Orange County, CA?
While the process may seem straightforward, there are many parts that are helped by immigration experts, like a lawyer. The requirements for sponsorship change depending on the relationship or the company. Knowing the right path to take from the beginning can help save time and stress later. Our offices are trusted immigration experts and are ready to help.
Can a Lawyer Speed Up the Green Card Process?
While a lawyer cannot account for human speed in other companies, a lawyer can help your process move more quickly by ensuring that the correct paperwork is filed with all the right details. Once submitted, they can track the progress of your application and anticipate any challenges. With experts in immigration like us, we can help get it right the first time.
How Much Does It Cost to Hire an Immigration Lawyer in Orange County, CA?
The cost will vary by lawyer. In California, the average cost of an immigration lawyer is between $150 and $300 per hour. Green card assistance can cost between $800 and $5,000, depending on the needs of the case, plus the fees associated with the application. However, don't let the cost of expert Orange County immigration lawyers change your mind. We're here to help you create opportunities as quickly and easily as possible.
Is it Worth Using an Orange County Green Card & Visa Attorney?
While the expense may seem high, hiring an immigration lawyer could end up saving you money and time down the road. Ensuring that documents are correctly filed and anticipating the challenges of the process should be left in the hands of those with experience. The immigration system can be frustrating, and expert immigration lawyers like us can help.
Find Help With Your Visa or Green Card Application with U.S. Law Center
If you or someone you know is ready to apply for a green card, call our offices today and get the expert legal help you deserve. The path to becoming a U.S.citizen can be challenging, but the end result is full of opportunity. Let us help you make sure the first step you take on that journey is the right one. Contact our firm today.
Our Orange County U.S. immigration law practice is conveniently located next to the Immigration Courthouse in Santa Ana making the process easier for all our clients. Contact us today to see how our services can help you reach your goals regarding U.S. immigration.