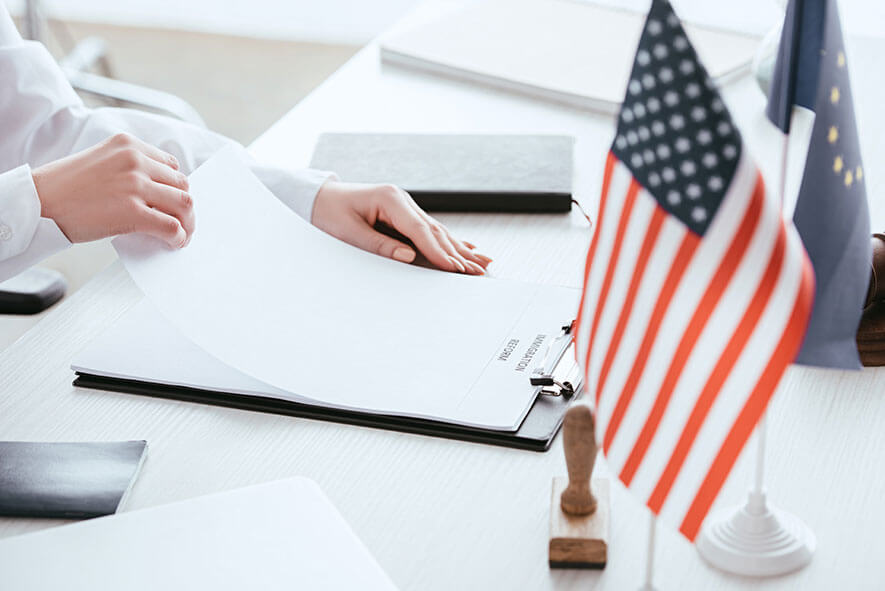 Riverside immigration attorneys at our Southern California immigration law firm, U.S. Law Center, practice globally, representing corporations, small businesses, families and individuals in immigrant and visitor visa applications, naturalization, deportation defense and other immigration issues. We attribute our attorneys' successful practice to their thorough understanding of current and evolving U.S. immigration law and their commitment to our clients' interests. Below are brief summaries of some of our immigration services.
If you would like to speak to one of our U.S. immigration law attorneys, please contact us to arrange a free consultation at our Riverside County office. We handle immigration matters in Los Angeles, Anaheim, Santa Ana, San Jose and San Bernardino, throughout Southern California and nationwide.
Immigration Services For Employers
From offices in Corona, our attorneys travel throughout the United States, assisting employers and recruiters with a full range of immigration processing and placement services. Our lawyers have devised successful U.S. immigration strategies for employees ranging from CEOs to foreign national college graduates.
We handle nonimmigrant work visas and employment residency matters relating to:
Canada and Mexico TN visas
Educational and cultural exchange programs J-1 visas/Q visas
Extraordinary ability O-1 visas
Intracompany transferee L visas
Professional H-1B and H-1B1 visas
Religious worker R-1 visas
Treaty trader E-1 visas
Investor E-2 visas
Agricultural worker H-2A visas
Nonagricultural worker H-2B visas
Artist and athlete P-1 visas
Athletes and entertainers P-2, P-3 visas
Trainee H-3 visas
Entertainment support O-2 visas
Employment-based residency
Immigration Services For Individuals And Families
Our Riverside immigration attorneys take great satisfaction in participating in family reunification. We assist U.S. citizens and legal permanent residents in sponsoring family members through applications for fiancé/fiancée K-1 visas, nonimmigrant K-3 and immigrant spousal visas IR1/CR1, and visas for siblings, parents and children.
We also handle a wide range of other individual immigration matters, including those that involve:
Student visas (F-1, J-1, M-1)
Visas for spouses and children of nonimmigrant work visa holders
Appeals to the Board of Immigration Appeals (BIA) and the 9th U.S. Circuit Court of Appeals
If you would like to speak with a Riverside immigration attorney about our immigration law practice, please email or call our Corona office at 866-665-1696 to arrange a free consultation. Evening and weekend appointments are available. Our fees are competitive and we accept credit cards. Se habla español. Our Southern California lawyers serve individuals in Los Angeles, Anaheim, Santa Ana, San Jose and San Bernardino.