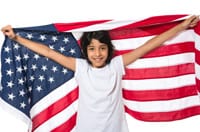 U.S. Citizenship & Naturalization Online Application Starts At $169
To obtain U.S. citizenship, an applicant (foreign national) must go through the naturalization process. This involves fulfilling certain requirements prescribed by Congress under the Immigration and Nationality Act.
Acquiring U.S. citizenship is a turning point in most aspirants' lives. The decision emphasizes the loyalty and commitment the person feels toward the United States and its Constitution. Yes, it also bestows several benefits that include certain privileges and rights a U.S. citizen is entitled to.
One major benefit in becoming a U.S. citizen is the right to vote. Moreover, holding a U.S. passport entitles a citizen to travel all over the country and apply for federal employment. At U.S. Law Center, we are a team of U.S. immigration attorneys. We take great pleasure in assisting people of diverse cultures and ethnicity in their attempts to enter the U.S. legally and attain U.S. citizenship.
If you fulfill the basic eligibility requirements to apply for U.S. citizenship, you can take the next step, which is submitting the Form N-400, the Application for Naturalization. This application is submitted to U.S. Citizenship and Immigration Services (USCIS). Upon receipt of the application, USCIS will give an initial acknowledgement.
An interview will be scheduled for the applicant at the Application Support Center (ASC). You will be required to go through biometric services, providing your fingerprints, photograph and signature, and the FBI will run a background and security check after confirming your identity.
The U.S. citizenship test and interview will be conducted one after another to evaluate the applicant's proficiency in U.S. English and awareness about the U.S. government and the history of the United States.
After successfully passing through all these procedures, the final step is the invitation to the oath-taking ceremony. Applicants are required to take the Oath of Allegiance before being declared U.S. citizens.
Please reach out to us regarding your citizenship application and we will be in touch with you over the phone and by email.