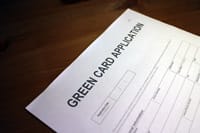 Renewal/Replacement Online Application Starts At $149
Form I-90 is the application to renew or replace a permanent resident card.
When To File Form I-90?
File Form I-90 when:
Your green card has expired.
Your green card is lost or has been misplaced.
Your green card is reported stolen.
Your green card is invalid as it is damaged or destroyed.
You haven't received the card that was issued to you.
Your green card contains false or incorrect information.
There are changes in legal name or any other personal information.
Your status has been converted to permanent resident status.
You are a commuter wishing to take up residence in the U.S.
You are a minor (14 years old) and your green card will expire on your 16th birthday.
The Process For Renewing Or Replacing Your Green Card
We've brought in our 20 years' immigration law experience to offer you a completely automated solution to prepare your Form 1-90 application to renew or replace a permanent resident card. With easy-to-understand, step-by-step instructions, it takes just a few minutes to complete the application with 99.96 percent accuracy. Our online and phone teams are on standby to assist you at any time.
All it would take is a small spelling mistake or incorrect information furnished knowingly or unknowingly to cause delays in processing the application. We take utmost care in helping you to fill in the green card renewal Form 1-90 without any errors.
The green card is a critical document that enables you to travel across the world without affecting your employability in the U.S. Form 1-90 is the mandatory application for renewing or replacing a permanent resident card.
For green card renewals/replacement help, please reach out to us and we will be in touch with you over the phone and by email.